General Foot Care
Did you know that:
Your foot is composed of 24 bones
Your ankles are formed from the interaction of the foot to your leg
The bones of your feet are connected with ligaments
Foot muscles along with tissue (called plantar fascia) provide secondary support
Your foot has fat pads to absorb impact
The foot is one of the most important and intricate parts of your body. So when one of the many above items starts having problems, or causing pain and discomfort, our certified staff is prepared to address your most basic or acute foot care issues.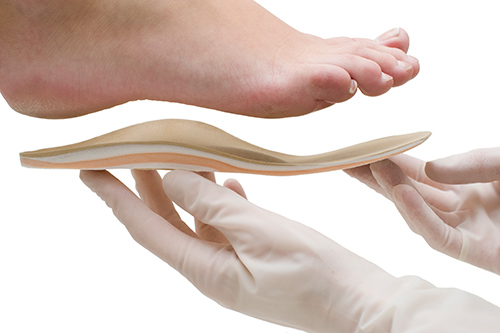 Diabetic Foot Care
Diabetes can be dangerous to your feet as even a small blister or cut can have consequences. Diabetes can also cause nerve damage leading to loss of feeling in your feet. If you are a diabetic, you should pay attention to any issues you may be having with your feet. It is very important for diabetics to take precautions to prevent long term issues and keep their feet healthy as diabetics are prone to many foot problems such as:
Loss of feeling in their feet
Changes in the shape of their feet
Foot ulcers or sores that do not heal
As a company we have vast experience is dealing with preventative diabetic foot care to severe diabetic foot care situations. We are here to support and help you with your diabetic foot care needs from custom foot orthotics, shoes, bracing, socks, or compression products. Our customer service staff is also well versed in the diabetic foot care guidelines and is here to help guide you through the process of obtaining the diabetic foot care products you may need.
Did you know if you are diabetic and meet certain criteria you may be covered to receive foot orthotics and shoes on annual basis?
Overview of Foot Care Services
General Foot Care Needs
Diabetic Foot Care Needs
Wound Care Needs
Preventative Foot Care Products
Custom & Prefabricated Devices
Pre/Post-Operative Service and Care
Lymphodema/Compression Products
Fracture Products
Cutting Edge Technologies & Devices
Patient & Family Education and Support
Free Consultation and Follow Up
On Call Emergency Service for Hospital Situations
Outside/Mobile Clinics
Wound Care clinic support
Overview of Orthotic Products/Services
Foot Orthotics:

Foot Orthotics - Custom and Pre-Fabricated
Foot Orthotics - Diabetic Foot Orthotics – Custom and Prefabricated
UCBL's - Custom and Pre-Fabricated

Shoes:

Shoes – Prefabricated and Custom
Shoes – Diabetic/Extra Depth Shoes
Shoe Modifications
Wound Care Shoes
Surgical Shoes
Post- Operative Shoes
Cast Shoes

Compression:

Lymphedema/Compression Products – Prefabricated and Custom
Wound Care/Ulcer Compression Products
Compression Hosiery
Compression Socks

Socks:

Sport Socks
Diabetic Socks
Open Toe Socks
Compression Socks

Orthotic Devices:

Wound Care Orthotic Products – CRO Walkers, Unweighting AFO's
Partial Foot Products
Night Splints
Fracture Bracing
Fracture Walking Boots